Techno India Group Public School, Konnagar is a CBSE affiliated Co-educational English Medium School with affiliated number:2430160 and School Number -56121, located in Nabagaram, Konnagar.
About Us:
Mission:
Techno India Group Public School, Konnagar aims at delivering quality education for the holistic development of a child with special emphasis on intellectual and moral growth. One aim is to provide a congenial atmosphere to our students to promote learning and cultivate a warm and friendly teacher- student relationship that would facilitate in the all round development of a child's personality.
Objective:
Apart from education, our institution strives to:
Inculcate in every student a spirit for excellence in scholastic and co scholastic areas.

Create a notion in every student to lead a life based on firm principles and high moral values.

Develop patriotic sentiments, compassion, love and fellow feeling and an urge to be at service to society and nation.

Create a sense of responsibility, dedication, character, ethical practices and honesty in every student.
Core Value:
Our school is a clear departure from the picture of a rigid and authoritarian structure. The human like compassion, cooperation, friendliness, smile, laughter, belongingness and caring for fellow beings are all components of the teaching- learning system. Apart from scholastics, co-curricular and co-scholastic activities are also given equal importance. Effective measures are also taken to ensure perfections in the character moulding and cultural development. The basic factors pertaining to communal harmony, national integration, patriotism etc. are also taught to students.
What makes us unique and exclusive is that we constantly strive to bring out the ability inherent in every child, nurture it through proper guidance and motivation to help it attain the peak of glory.
Academics:
Academic session: The academic session begins from the 1st week of April and ends on the last week of March.
There are 3 vacations during the course of the academic year-Summer vacation, Puja vacation & Winter vacation
Admission:
Students' merit and performance are assessed through a system of continuous and comprehensive evaluation in the primary and secondary classes through planned and regular formative and summative examinations in secondary classes. Students are graded according to their overall performance in the academic session.
Academic Curriculum:
The pre-primary section comprising classes (PG, Nursery &KG) learn English, Number work, Colouring Art & Craft and PT in an exclusive and profound way suitable for kids of that age.
Primary classes (I &V) learn English, Hindi, Bengali, Arithmetic, General Science, Social Studies, EVS, GK, Value Education and Life Skill, Art & Craft, Dance, Music, Chess, Elocution.
Secondary classes (VI to X) learn English, Hindi, Bengali, Mathematics, General Science, Social Studies, EVS, GK, Art & Craft, French, Dance, Music, Chess, Elocution, Value Education, Life Skill and Computer Education.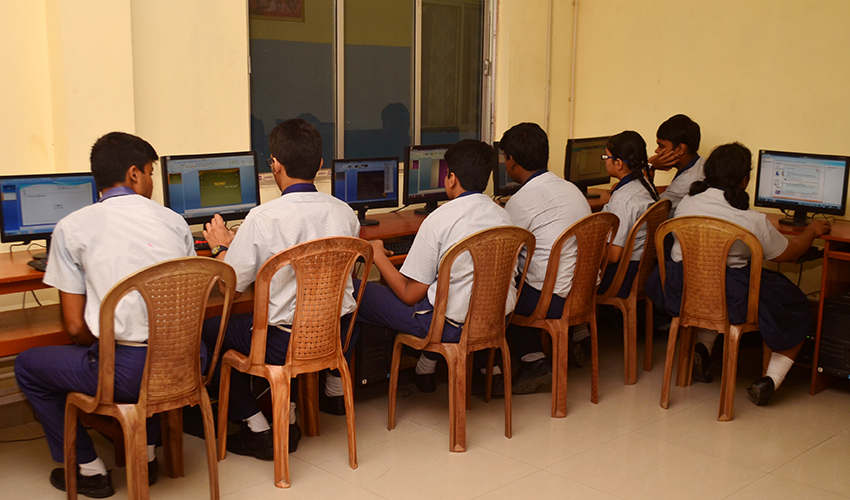 Admission Procedure:
Admission to the school is conducted through regular admission tests during various times throughout the year. The written test is followed by a round of personal interview of both the students and their parents.

Sample papers of previous years are available on our website which will help aspiring students prepare themselves for the admission tests.
Counselling:
Professional help with personal care ensures that each child can find a confidant of their deepest fears and greatest weaknesses.
Canteen:
Laughter is the brightest, where food is the best
Keeping this in mind, the school ensures that the children look forward to their lunch break with a platter of tasty and healthy food on offering at the school canteen.
Martial Arts:
The school makes sure that each girl child from VI to IX is trained in Martial Arts so that if situation demands they do not need to look for a weapon, they become one.
Library:
A book that is fifty chosen, is a lifelong friend
The school has a well-equipped library with a wide collection of books to cultivate the imagination of its young minds in Hindi, English, Bengali, French and German.
Hobby Clubs:
As the old proverb goes- "All work and no play makes Jack a dull boy"; the school tries to spot an unique ability in every child through a host of hobby clubs such as Chess, French, Dances, Music and Recitation
Facility:
Security: Techno India Group Public School, Konnagar gives foremost priority on the security of the students. No stranger is allowed without proper appointment. Visitor's entry in the campus is restricted. Visitors may be allowed to meet a student on an emergent call or handed over to the escort subject to necessary verification.
Faculty:
The faculty consists of different departments each consisting of experienced and trained teachers duly specialized in their subject areas.
Computer Education:
Computer Education is provided from the pre-primary classes onwards.
Audio Visual:
The audio- visual medium of instruction is often used for imparting lessons to make the teaching- learning process more effective and attractive to the young learners.
Other Facilities:
Regular elocution, dance and Indian music classes are offered under the guidance of Bratati Bandopadhyay, Dona Ganguly and Sraboni Sen. Our swimming pool is going to be operational from the next swimming season. We have a beautiful park exclusively meant for our pre-primary and primary section students
Olympiad Exams:
Our students from the primary section are given an opportunity to appear in the Olympiad Exams for Science, Mathematics, Cyber & English.
Recent Achievements:-
Our 1st Annual Day Celebration on 15 Feb 2015 was an immense success. We received commendable remarks and are looking forward to such celebrations on a larger scale.
We are highly proud of one of our class IX students for winning the First prize in the NIE aptitude test for Science and Mathematics.
Future Plans:
Our students are going to appear in the CBSE exam for class X in the coming session.

We have planned to introduce FIT as a subject course for classes IX & X from 2015-16.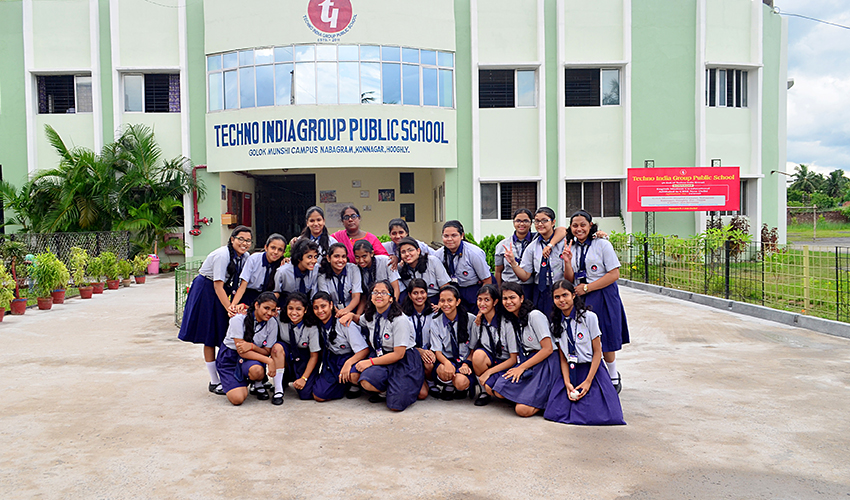 Why Us?
The school is still in its nascent stages of development and each person associated with the institution is determined to take it to the Zenith of glory students, being the bedrock of any school, the development of each of them remains a matter of utmost importance to every teacher in our institution. A regular appraisal of their performance is followed by remedial classes, if necessary. Parents are kept informed of their ward's progress through regular meetings and students are led forward by their teachers with love and affection.
TECHNO INDIA GROUP PUBLIC SCHOOL-KONNAGAR
Golok Munshi Campus,Nabagram,
Konnagar,Hooghly
Tel: 9230702903
E-mail: tigpskon@gmail.com